You're never too old to play with your food...
Whether you consider yourself the ultimate foodie or are too often the brunt of the "burn water" jokes, we like to think we can help. The Culinary Playground offers all kinds of cooking classes for adults and kids. No matter what your skill level, however, our philosophy remains the same. Cooking should be fun!
These adult cooking parties are just that- FUN! A team of your friends, a bottle of wine (maybe?), a delicious menu, a knowledgeable instructor and you're cooking, you're eating and you're laughing... We call THAT a party!
Choose one of our menus or
drop us a note
and we'll customize one for you!
Rates are $450 for the first 6 guests and $65 each additional guest up to a maximum of 12.
Check Availability/Schedule Online
Parties are scheduled for 3 hours with ample time to cook and eat.
Our reservation system will collect a $100 deposit at the time of booking.
A final headcount is needed 5 days prior to party with the balance due on the day of the party.
Make Mine Moroccan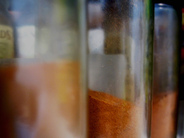 Is it the vast array of spices in this menu or the bright colors and textures that make our mouths water every time someone asks about it? Not quite sure it matters, but one thing for sure is that this is food you will crave and recipes you will revisit time and time again. Moroccan Spiced Chicken is coated in the famous Ras El Hanout spice blend, which we make ourselves, and roasted over a bed of lemon slices with garlic. We teach you to serve it with a Chickpea puree and a colorful Roasted Vegetable side dish that nearly steals the show. Although desserts aren't common in Morocco, we'll tempt your taste buds with fruit from that region, roasted and served drizzled with honey and sprinkled with chopped nuts and dates. Simply divine! (Thinking of a different kind of bachelorette party? This menu gives us ample material to laugh with. It's amazing how much fun a bunch of women can have with raw meat.- Makes a perfectly suitable menu for the slightly more serious, too.)
---
Totally Thai
Full of amazing flavor, each element of this menu offers tips and tricks for making amazing dinners mid-week when you are no less hungry, but more hurried. Sweet Thai Green Chili is quick to prepare, but a delectable combination of both sweet and spicy that tantalizes us on the coldest of Winter nights here in New Hampshire. Truly a cooking class full of fun and deliciousness, we'll learn to make Oven-Baked Rice, how to truly enjoy a Thai Green Eggplant (not what you're thinking) and coax a wonderful, rich stock from the shells of shrimp to make Tom Yum Koong- this simple shrimp soup that is beautiful to present, delicious to slurp and surprisingly low in both fat and calories.
---
Magical Ravioli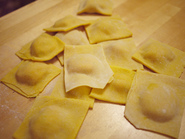 There must be a thousand ways to prepare ravioli. This cooking class will touch the tip of the iceberg as we work in teams to make Fresh Pasta Dough, fillings and sauces for some of our favorite ravioli recipes. Butternut Squash Ravioli is perfect for the Fall, especially with Brown Butter Sage Sauce. Artichoke and Goat Cheese Ravioli with Fresh Tomato Sauce (wait until you see how deliciously easy this is! Your guests won't believe you when you told them you made it from scratch!) We mustn't forget Chicken and Cheese Ravioli with Pesto Cream Sauce in this amazing cooking class, either. Lots of ideas for recipes we won't have time to make, too! Rather have it dairy free? We can do that. Feeling more like a vegetarian? We can do that, too.
---
---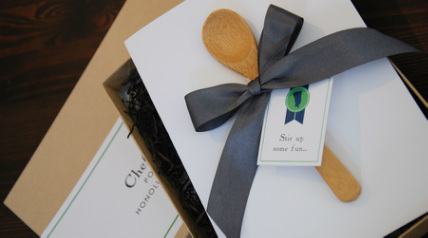 SPECIAL GATHERINGS & TEAM BUILDING
Special menus for special events!
$75/person. Minimum of 6 guests ~Maximum of 20.

Italian Small Bites
Panzanella Salad
Mini Manicotti
Broccoli Rabe, Cannellini Beans and Ricotta on Crostini
Stuffed Zucchini
Caprese Skewers drizzled with a balsamic reduction or pesto sauce
Mini Cannoli and/or Panna Cotta with Balsamic Strawberries

Fiesta!
Guacamole and Pico de Gallo with homemade corn chips
Mexican Salad with Pomegranate Lime Dressing
Tex Mex Beef Tacos
Spicy Chicken and Chorizo Tacos
Spanish Rice
Chocolate Cinnamon Cake with homemade ice cream and Dulce deLeche

Middle Eastern Feast
Tabbouleh with pita chips
Hummus with naan bread
Baba Ganoush
Chicpea Burgers with Tahini Yogurt Sauce
Kofta with Spicy Tomato Sauce
Umm Ali (Egyptian Bread Pudding)
Honeyed Pistachio Cups

Asian Plates
Beef or Chicken Satay with Dipping Sauces
Mixed Green and Mandarin Orange Salad with Sesame Ginger Dressing
Pad Thai
Baked Crab Rangoon or Spring Rolls
Chocolate Mango Mousse

All American
Crispy Asparagus Straws
Buffalo Chicken Dip with homemade Pita Chips
Flank Steak stuffed with Provolone, Bacon and Veggies
Pumpkin Stuffed Sweet Potatoes
Cinnamon Apple Bread Pudding with Caramel Sauce


Check Availability/Schedule Online