ADULT COOKING CLASSES/WORKSHOPS
​

Summer is PRIME TIME for fresh, local produce! But incorporating all of summer's bounty into our meals can be a challenge.
Join Chef Karen of The Culinary Playground to learn how to best utilize your farmer's market finds. We will shop Derry's Homegrown Farm & Artisan Market to purchase produce then return to our kitchen studio for a cooking demo and sampling.

​ Adults $38

---
​Vegetarian Series
Learn the art of meatless cooking in these classes designed for healthful & flavorful eating!
Participants will work independently under the expert guidance of our talented chef to make
2-4 servings of each recipe on menu listed. Most dishes can be made VEGAN!


---
Sunday August 13th (4-6pm)

---
Sunday September 10th (4-6pm)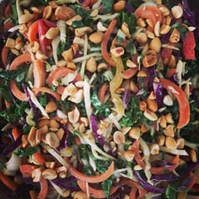 ​Thai Chickpea Curry
Lime-Cilantro Basmati Rice
Sweet Potato Noodle Pad Thai
Mango Sorbet
---

​

​ Adults $60/class
​
Have a Gift Certificate? Please call 603-339-1664 or email kristen@culinary-playground.com to enroll in a class.

---