Private Classes for Non-Profit Entities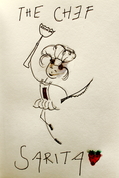 We have had the pleasure of hosting private classes for all ages of girl and boy scouts, private schools for children with special needs and summer camp programs. Who doesn't love to cook and bake; laugh and learn?
Our private classes are scheduled as one and a half hour cooking classes where we cover two recipes.
Each child prepares his own food and the children each leave with 2-4 servings of each recipe.
Choose from the menu suggestions below or drop us a note to ask us to create a menu to meet your specific needs.
Minimum class size is 8, Maximum is 16.
Costs are $24/student for 10 or less students (minimum of 8) and $22/student for 11 or more students (maximum of 16).
Our aim is to have so much fun cooking and learning together that your kids will want to come back often!
---
Cloudy with a Chance of Meatballs

Although our ingredients don't exactly fall from the sky, you are sure to fall in love with the wonderful recipes for Spaghetti and Meatballs in this kids cooking class. We'll learn to cook noodles, create our own meatballs in sauce from scratch and even decorate adorable Spaghetti and Meatball Cupcakes for a sweet ending.

Suitable for kids ages 5 and up, fun for kids of all ages.

---

Hip To Be Square

Brownies are one of our best recipes for teaching weight vs. volume, but they are also one of our favorites because they are so YUMMY! We'll learn to bake Fudgy Brownies, which we cut in squares, of course, but this kids' cooking class is way more than just that. We'll also make Cheesy Lasagna which is deliciousness, squared!



---
Seasonal Favorites

Menus inspired by the New England's Seasons

Fall- .Twice Baked Potatoes and Sweet Apple Dip with Cinnamon Sugar Pita Chips.

Winter-Hearty Chicken Stew and Buttermilk Biscuits teach us a bit about science, a lot about yummy.

Spring-Nothing says "Cinco de Mayo" like Mexican Stuffed Shells (sort of like a taco, only cooler) and Mexican Chocolate Cake.

Summer- Maple Barbecued Chicken and Strawberry Shortcake and you'll be walking on sunshine.

Suitable for all ages.

---

The World is Flat

Gather a group of kids together and ask them what they'd like to cook and guess what they say? You got it. Pizza! Their eyes light up and the world is suddenly more...flat!

We will make 2 types of pizza; a design your own with a variety of toppings and a dessert pizza.

Suitable for all ages.

---

Copy Cat Diner

Somewhere around age 10, kids start to get very creative in the kitchen. They have enough years of eating behind them to have some experience, and are often imaginative with the foods they make for themselves. We like to frame that creativity by giving them a track to run on and some really cool recipes to play with. This cooking class pairs two recipes that are perfect for capturing that creativity and harnessing it for the betterment of eggs. Cradled Eggs are a little bit toast, a little bit egg, reminiscent of quiche but more playful. We'll pair these little gems with Creative Cheesecake made in little cupcake-sized servings and more suited to the creative genius in us all.

Suitable for kids ages 9 and up.

---